Surface Capacitive
Touch Screen Sensors
Surface capacitive sensors are often the preferred solution for touch applications that require good optics, light touch and are vandal resistant. This technology, like resistive has been in the field for decades and has dominated the market in kiosk and gaming applications due to its vandal resistant glass membrane surface and excellent optical characteristics.
Applications
CONTROL PANELS
INDUSTRIAL AUTOMATION
KIOSKS – INDOOR
INFORMATION KIOSKS
POINT OF SALE TERMINALS
TICKETING MACHINES
ATMS
Markets
INDUSTRIAL
RETAIL
ENTERTAINMENT
FEATURES & BENEFITS
Features & Benefits:
Light touch
Touch point durability
5 Mohs surface hardness rating
Moderate abrasion resistant
Contaminant resistant
High optical clarity and light transmission
Fast touch response time
TECHNICAL SPECIFICATIONS
Technical Specification Summary*:
Size:
3.5″ to 24″
Types:
4- or 8-wire; and 5-wire
Input Device:
Finger, Conductive stylus
Surface Hardness:
6.5 Mohs
Temperature:
Operating: -10°C to +55°C*
Storage: -40°C to +70°C*
Enclosure Compatibility:
NEMA 4, 12; IP65
Transmittance:
≥85%
*Technical specifications apply to standard products and are subject to change without notice. Product performance will be subject to suitable installation and mounting. Consult manufacturer for technical drawings, best practices for installation and mounting, confirmation that product can meet intended application's requirements or for the applicable product specifications when optional enhancements are applied.
AVAILABLE OPTIONS
Enhancements – Available Options:
Some applications have more demanding requirements. To meet these needs A D Metro can provide select combinations of the following options:
Anti-Glare (AG) or Anti-Reflective coatings
Chemically strengthened backers
Printed laminations
How Do Surface Capacitive Touch Screens Work?
Surface capacitive touch screen sensors consist of a transparent conductive layer on a glass substrate under a protective silicate layer. The controller applies a high frequency signal to an electrode at each corner of the conductive layer. When a finger is placed on the screen, it forms a capacitive coupling with an impedance to ground that dissipates some of the signal. The change in signal at each corner is measured to locate the touch point.
For more information on popular touch screen technologies, please download our whitepaper.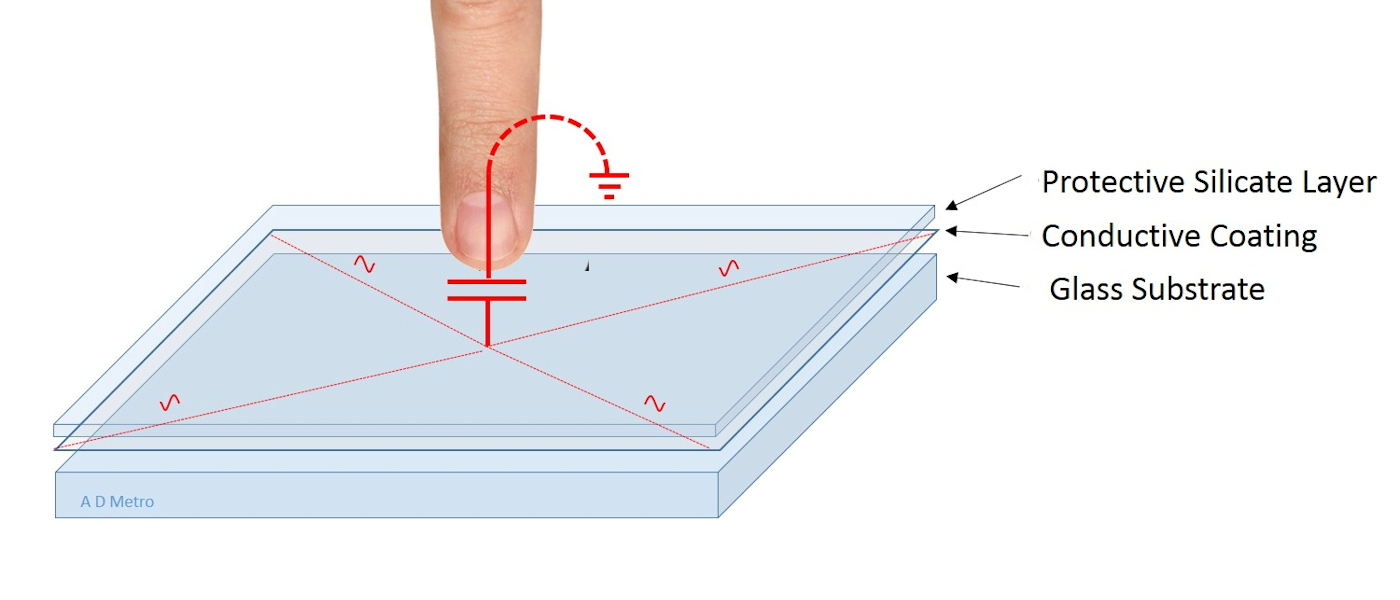 Ask the touch screen experts at A D Metro