A D Metro designs, manufactures and supplies innovative solutions in touch screen technology. Established in 1993, our headquarters and manufacturing facilities are located in Ottawa, Canada.

A D Metro is ISO9001:2015 certified and ITAR registered.
A D Metro is a leading supplier of touch screen solutions to original equipment manufacturers (OEMs), systems integrators and value added resellers.
Our touch screen solutions are designed to address the requirements of commercial, industrial and military applications. A D Metro products are embedded into kiosks, control panels, monitors, all-in-one PCs and mobile computing devices. They are widely deployed across a broad range of applications in aerospace, gaming, healthcare, industrial, marine, medical, military, retail and transportation. Millions of people around the world touch A D Metro solutions every day.
A D Metro's patented ULTRA armored glass touch screen is the industry's most durable resistive touch screen sensor and a well proven solution that is ideal for harsh operating environments.  Our innovative solutions in projected capacitive touch screen technology can simplify product development, reduce costs and accelerate time to market.
A D Metro is the logical partner for innovative touch screen solutions, with its breadth of available technologies, flexible North American manufacturing facilities, ability to provide customized enhancement options and extensive industry experience.
A D Metro delivers innovative and highly specialized touch solutions.
Most real world touch applications require engineering enhancements or customization beyond that provided by an off the shelf touch sensor. A D Metro provides complete engineering services from conceptual design through production:
Analysis and Design
Prototyping
Test and Measurement
Material sourcing and manufacturing preparation
Integration consulting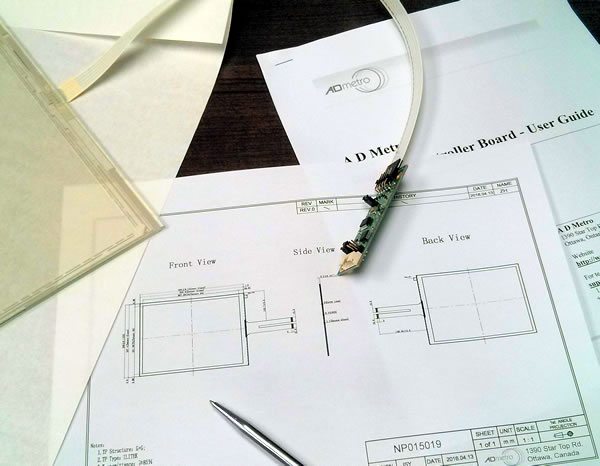 Areas of specialty in touch sensor design and customization include:
Optical enhancements: Application of coatings and films to enhance optical performance of touch sensor and LCD stack-up
Strengthened Substrates: Whether a military, industrial or vandal prone application, the only way to construct a touch sensor that can withstand direct, excessive, heavy impacts is through the enhancement of the sensor's main substrate panel. A D Metro is expert in the application of hardened glass laminations to provide the optimal sensor impact strength for any given thickness or weight
Electromagnetic Interference Shielding (EMI Shielding): The application of ITO coatings, wire mesh or metal coated films to the touch sensor in order to provide the necessary shielding. A D Metro designs and manufactures touch solutions to meet electromagnetic compatibility (EMC) requirements and MIL-STD using index matched low ohm ITO coatings, grounding silver bus bar options and conductive grounding gaskets.
Mullion Heaters: Touch sensor substrates provide an ideal platform for heater windows required for display applications that must work in extreme conditions
Cosmetic Customization: Whether it is enamel silk screened borders or die-cut vinyl overlays, A D Metro can provide seamless integration of the touch sensor into your ergonomic design
Sensor Integration: Many touch sensor problems arise from incorrect mounting and installation. Bringing A D Metro into the early stages of the mechanical design phase of a new project often save future headaches down the road
Ask the experts at A D Metro about your custom touch screen design and engineering requirements.
Ask the touch screen experts at A D Metro