TOUCH SCREEN PRODUCTS
Innovative Touchscreen Solutions
A D Metro offers an extensive range of touch screen products. Established in 1993, our product line has evolved and expanded to include a wide range of innovative touch screen solutions, including resistive, capacitive and acoustic product technologies. Touch screen solutions that are available in a wide range of standard sizes and formats; and can also be custom manufactured to individual clients requirements.
Our touch screen sensors and controllers are used extensively for control panels, monitors, all-in-one computers, kiosks and portable mobile computing device applications. Touch screen applications that are deployed across a diverse range of markets including aerospace, industrial, retail, marine, military, transportation, healthcare and medical.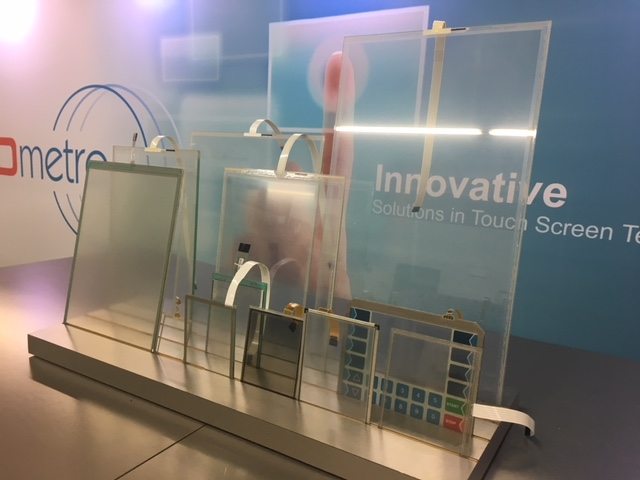 A D METRO PRODUCTS INCLUDE
ULTRA RESISTIVE
A D Metro's patented armored glass resistive touch screen.
SELECT FOR
Rugged durability
Finger/glove operated
EMI Immunity
Environmental range
STANDARD RESISTIVE
Traditional resistive touch screens and an industry favorite for decades.
SELECT FOR
Low cost
Low power
EMI Immunity
Ease of integration
PROJECTED CAPACITIVE
A D Metro's PCAP touch screen solutions can simplify product development.
SELECT FOR
Multi-touch
Durable surface
Impervious surface
SURFACE ACOUSTIC WAVE (SAW)
Touch screen sensors with single touch and good optics.
SELECT FOR
Single-touch
Durable surface
Impervious surface
SURFACE CAPACITIVE
SAW touch screen solutions with excellent optics.
SELECT FOR
Light touch
Excellent optics
CONTROLLERS
Controllers that match our touch screen sensors.
SELECT FOR
Assured integration
One stop support
In addition to a broad line of standard size commercial off the shelf touch screen sensor technology solutions, A D Metro is able to offer custom sizes and enhancements to meet our clients' specific requirements.
How To Design With A Touch Screen Solution?
Selecting the correct touch screen technology for an application is critical to any products' success because it plays such a major role in its operational reliability and the user's experience. When selecting and implementing a touch screen technology solution, there are numerous requirements and design factors to consider and a complex array of solutions and options.
Some of the questions you should be contemplating include:
What is the operating environment?
– Temperature, humidity, etc.
How will the touch screen be operated?
– Finger, stylus, pen, tools, medical gloves, industrial gloves, winter gloves, edge of credit card, etc.
How durable must the screen be?
– Exposure to scratches, abrasion, welding sparks, cigarette butts, etc.
What types of contaminants will the product be exposed to?
– Chemicals, dirt, dust, cleaning agents, etc.
Will the application be unattended in a public location?
– Must it be resistant to vandalism
Is the application going to be subject to electromagnetic interference (EMI)
– Military, cockpit or first responder, etc.
What are the regulatory requirements of the application?
– UL, FCC, MIL-STD, MIL-SPEC, EN, ROHS, etc.
What type of display will the touch screen be used with?
– LED's EMI, LCD, optical bonding
What production volume and supply chain logistics will be required?
– Mass production, limited production runs, manufacturing location, delivery times
What is the required size of the screen?
– Industry standard size, or custom form factor
What is the expected operational life of the product?
– Number of touches, frequency of touches, years of operation, etc.
What types of screen based interactions are required?
– Simple press-to-select, multi-touch, or gesture based interactions
Will the operating environment require special optical treatment?
– Anti-glare, anti-reflective, night-sight, infra-red
How will the display be mounted and assembled?
– Plastic bezel, metal bezel, gaskets, adhesives, bonding, etc.
How will the touch screen be connected and controlled?
– Controller embedded on motherboard or separate control module, USB, I2C, RS-232
Cost versus performance in the design?
– How important is the touch screen's performance and durability to the application?
Although no individual touch screen technology can satisfy every potential objective, A D Metro can assist you in prioritizing those requirements that are most important and relevant to your application.
We can help you through the process of choosing the right solution for your application by guiding you through the advantages and disadvantages of each type of touch screen technology.  A D Metro has extensive practical experience in supplying innovative solutions in touch screen technology for real-world applications since 1993. Get in touch with our experts who can help you with your project's requirements.
Touch Screen Technology Comparison
What are the different types of touch screen technology and how do they compare? Understanding touch screen technologies and the differences between them is important when contemplating design options and trade-offs.
There are different groups of touch screen sensor technologies:
Pressure Activated sensors overlay the display. They use pressure activation to create a contact between conductive layers and resistance to locate the touch point.
See our ULTRA Resistive and Standard Resistive touch screen sensors.
Capacitive Sensors use conductive coatings, high frequency signals and changes in capacitance to detect the proximity of a finger's location.
See our Projected Capacitive and Surface Capacitive touch screen sensors.
Peripheral Sensors detect touch as a disruption of a signal over a display surface; without embedded sensing in the glass they offer the highest optical clarity.
See our Surface Acoustic Wave touch screen sensors.
Ask the touch screen experts at A D Metro