Surface Acoustic Wave (SAW)
Touch Screen Sensors
A D Metro offers a complete line of Surface Acoustic Wave (SAW) touch screens kits, consisting of touch screen and controller. SAW offers an excellent alternative for many touch applications requiring a light touch, excellent optical characteristics and a very durable surface. Since the sensor is basically a glass plate with no coatings, the technology is quite robust and offers excellent optical characteristics.
FEATURES & BENEFITS
Features & Benefits:
Optical clarity and light transmission
Glass surface offers greater than 6.5 Mohs's hardness
Scratch and abrasion resistance
Accurate, sensitive touch response.
Supports light glove and special stylus operation
Bundled with controller and USB or RS232 interface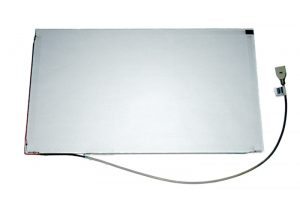 TECHNICAL SPECIFICATIONS
Technical Specification Summary*:
Size:
5.7″ to 24″
Input Device:
Finger, Gloved finger
Surface Hardness:
6.5 Mohs
Temperature:
Operating: -20°C to +50°C*
Storage: -40°C to +70°C*
Transmittance:
≥85%
*Technical specifications apply to standard products and are subject to change without notice. Product performance will be subject to suitable installation and mounting. Consult manufacturer for technical drawings, best practices for installation and mounting, confirmation that product can meet intended application's requirements or for the applicable product specifications when optional enhancements are applied.
AVAILABLE OPTIONS
Enhancements – Available Options
Some applications have more demanding requirements. A D Metro can offer select combinations of the following optional enhancements:
AG or AR surface coatings
Base glass thickness
How Do Surface Acoustic Wave Touch Screens Work?
Surface Acoustic Wave (SAW) touch screen sensors use ultra-sonic sound waves over the touch screen surface, aided by a reflective pattern around the periphery of the sensor. When touched by a finger, the ultra-sonic waves are disturbed and the touch location can be detected. Since active sensing is around the perimeter of the sensor, the touch screen can offer excellent optical clarity.
For more information on popular touch screen technologies, please download our whitepaper.
Ask the touch screen experts at A D Metro