Projected Capacitive (PCAP)
Multi-Touch PCAP Touch Screen Sensors
Projected Capacitive (PCAP) touch screens offer the user friendly multi-touch experience, associated with smartphones and tablets, operating with very light touch through a highly durable glass surface.
A D Metro's projected capacitive touch screen kits provide a high quality Glass on Glass sensor construction bundled with a discrete controller board, for commercial applications.
A D Metro's PCAP innovations include a patented group controller, where a common controller serves a range of screen sizes to simplify design and reduce inventory costs. The controller offers USB-HID compatibility with major operating systems, simplified product development and accelerated time to market.
Applications
CONTROL PANELS
INDUSTRIAL AUTOMATION
DIGITAL SIGNAGE
GAMING MACHINES
KIOSKS – INDOOR
INFORMATION KIOSKS
POINT OF SALE TERMINALS
ATMS
MONITORS
ALL-IN-ONE PCS
Markets
INDUSTRIAL
TRANSPORTATION
RETAIL
ENTERTAINMENT
TECHNICAL SPECIFICATIONS
Technical Specification Summary*:
Size:
7″ to 42″
Input Device:
Finger
Surface Hardness:
6.5 Mohs
Temperature:
Operating: -10°C to +60°C*
Storage: -10°C to +65°C*
Enclosure Compatibility:
NEMA 4, 12, IP65
Transmittance:
≥85%
*Technical specifications apply to standard products and are subject to change without notice. Product performance will be subject to suitable installation and mounting. Consult manufacturer for technical drawings, best practices for installation and mounting, confirmation that product can meet intended application's requirements or for the applicable product specifications when optional enhancements are applied.
AVAILABLE OPTIONS
Enhancements – Available Options:
Surface glass thickness
Substrate glass thickness
How Do Projected Capacitive Touch Screens Work?
Projected capacitive touch screen sensors use two perpendicular layers of conductive coatings that form vertical and horizontal patterned tracks behind a glass top layer. When a finger is placed on the glass screen it changes the mutual capacitance between the horizontal and vertical patterned tracks. The controller scans each cell of the horizontal and vertical grid with a high frequency signal, identifying any changes in mutual capacitance between adjacent cells as touch locations.
For more information on popular touch screen technologies, please download our whitepaper.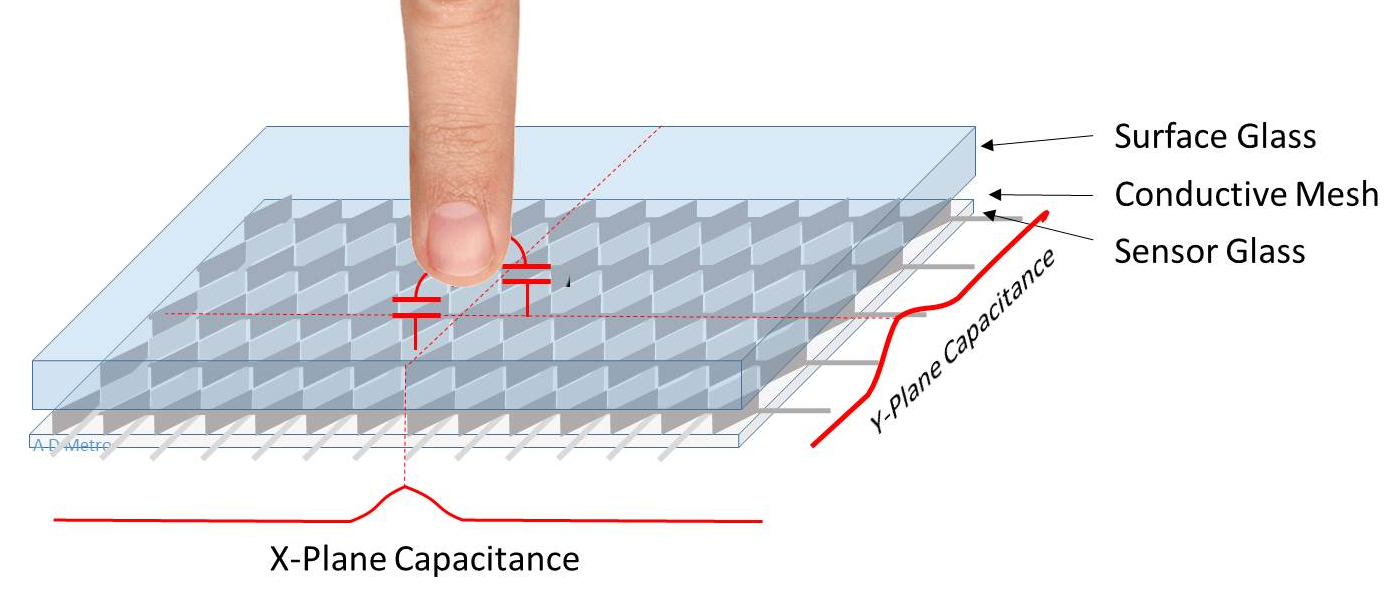 Ask the touch screen experts at A D Metro