Where airport departures halls were once filled with long lines in front of the check-in desks, travellers are now greeted by dozens of kiosks that allow them a quick and easy check-in experience. Changes like these have quickly become routine, especially for regular flyers, but the impact check-in kiosks have had on improving the ease and efficiency in airports cannot be overstated.
These developments are largely caused by improvements to touch screen technology. Outfitted with sophisticated Projected Capacitive (PCAP) screens, check-in kiosks can be programmed to perform a variety of different functions in seamless, user-friendly ways, and their popularity with travellers attests to the intuitiveness of this technology. At A D Metro, we have been designing cutting edge touch screens for 25 years, many of which are playing an important role revolutionizing how people travel. Our screens are used by millions of people around the world every day in a diverse range of applications, with check-in kiosks and ticketing applications being only two of the most prominent examples.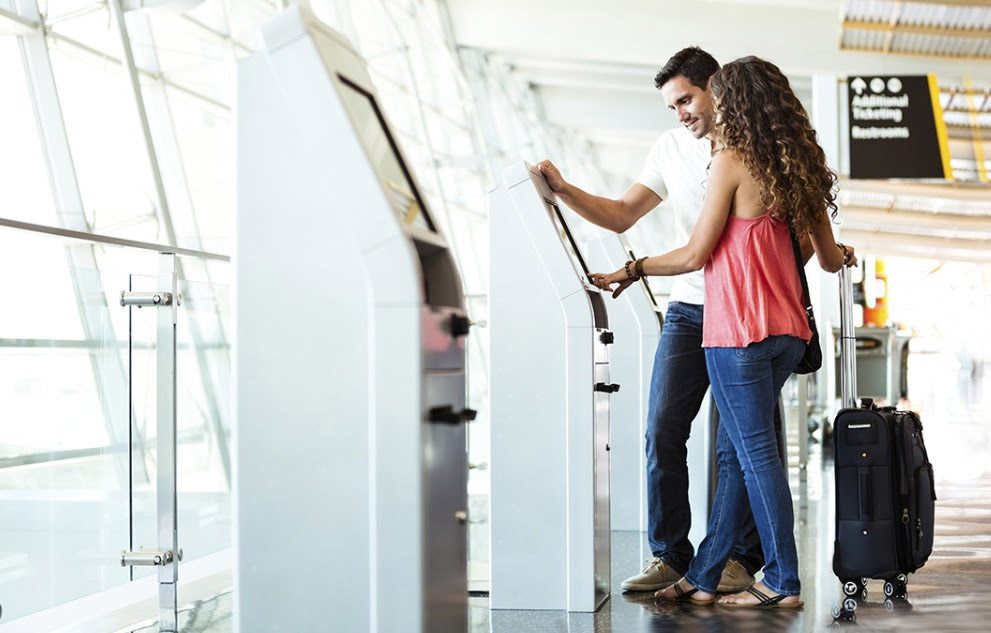 If you want to learn about our touch screen technology and find out more about the human machine interface (HMI) that makes these time saving tools possible, visit our website and get in touch with us to learn more about how the unique capabilities of PCAP screens are making the transportation industry more efficient.
We also offer a wide array of touch screen products for industrial markets and for use in marine and shipboard applications. In particular, our extremely durable ULTRA Resistive screen is attracting a lot of attention for its ability to deliver high levels of functionality in even the most stressful contexts. The ULTRA Resistive is scratch and abrasion resistant, waterproof, and impervious to chemicals, and its performance is not affected by contaminants like dust, grease, oil, and dirt.
If you are looking for a touch screen provider who can deliver quality products and offer customizable installation, give us a call today — we guarantee that you will be impressed, both by our range of products and our service.
Touch screen technology is at the cutting edge of change in a variety of different industries. In sectors like transportation, logistics, and shipping, sturdy computers with intuitive and easy-to-use HMI capabilities are becoming more and more vital in day-to-day operations. As touch screens become more durable, rugged, and responsive, developers are finding a growing number of applications for them, which is one of the factors driving the touch screen industry's rapid growth.
If you want to include high quality touch screen technology in your own industrial, transportation, or marine applications, consider sourcing them from A D Metro. With innovative, customizable screens and some of the best service in the industry, we guarantee that we can find a touch screen solution that works for you.