Standard Resistive
4-, 8- & 5-Wire Resistive Touch Screen Sensors
A D Metro has been designing and manufacturing resistive touch sensors since 1995. This extensive experience has been incorporated into today's designs, using advanced materials to produce the most reliable and cost effective resistive touch screen sensors available on the market.
Resistive touch screens have been widely used for decades and remain a popular, well proven and trusted solution. With their immunity to EMI and compatibility with a wide range of available controllers, resistive touch screens are easy to integrate and embed in many applications; and often incur lower development costs than alternatives, such as PCAP.
Traditional resistive touch screens, with their PET surface, provide a very economical solution for many applications. Where a waterproof or more durable touch screen surface is required, take a look at A D Metro's patented ULTRA Resistive solutions with their armored glass surface.
Applications
CONTROL PANELS
INDUSTRIAL AUTOMATION
KIOSKS – INDOOR
VOTING TERMINALS
POINT OF SALES
MOBILE COMPUTING DEVICES
Markets
INDUSTRIAL
TRANSPORTATION
RETAIL
MEDICAL
AUTOMOTIVE
FEATURES & BENEFITS
Features & Benefits:
4- or 8-wire and 5-wire type sensor options
Reliable pressure activated operation
Operation by finger, any stylus or glove
3H surface hardness for general use
Resistant to contamination
Sealable for NEMA 4, 12 and IP65 enclosures
EMI Immunity
Low power consumption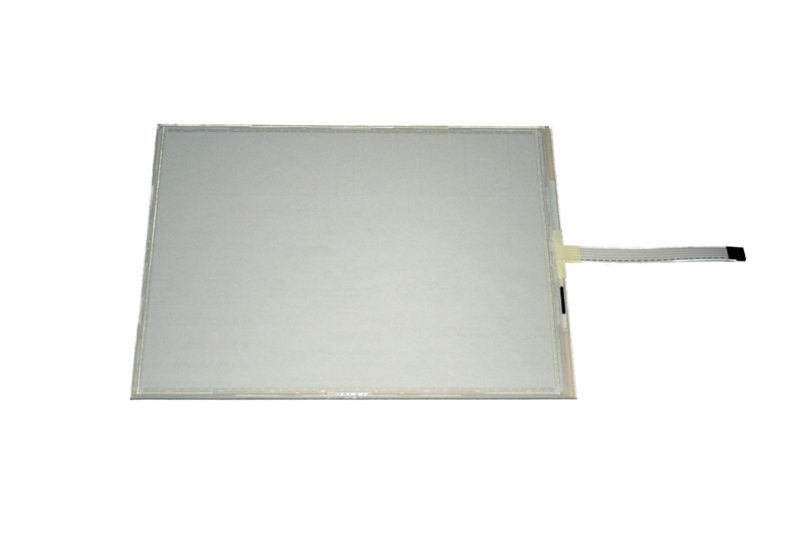 TECHNICAL SPECIFICATIONS
Technical Specification Summary*:
Size:
3.5″ to 24″
Types:
4- or 8-wire; and 5-wire
Input Device:
Finger, Stylus, Gloved finger
Activation Force:
<60 grams
Surface Hardness:
3H Pencil
Temperature:
Operating: -10°C to +55°C*
Storage: -40°C to +70°C*
Enclosure Compatibility:
NEMA 4, 12; IP65
Transmittance:
≥84%
*Technical specifications apply to standard products and are subject to change without notice. Product performance will be subject to suitable installation and mounting. Consult manufacturer for technical drawings, best practices for installation and mounting, confirmation that product can meet intended application's requirements or for the applicable product specifications when optional enhancements are applied.
AVAILABLE OPTIONS
Enhancements – Available Options:
Some applications have more demanding requirements. To meet these needs A D Metro can make select combinations of the following enhancement options available:
Foam or adhesive mounting gaskets
Chemically strengthened backer
Polyester backer
Printed laminations
How do Resistive Touch Screen Sensors Work?
A resistive touch screen sensor is an analogue switch technology that is pressure activated. Two conductive coated layers (usually using Indium Tin Oxide [ITO]), facing each other, are separated by a layer of dielectric spacer dots. When pressure is applied to the top surface, the two layers come into contact and the controller locates the touch point. To determine the x and y coordinates, in 4- and 8-wire sensors a voltage gradient is applied to each layer in turn; and in 5-wire sensors the resistance is measured between the top layer and each of the four corners of the base layer.
For more information on popular touch screen technologies, please download our whitepaper.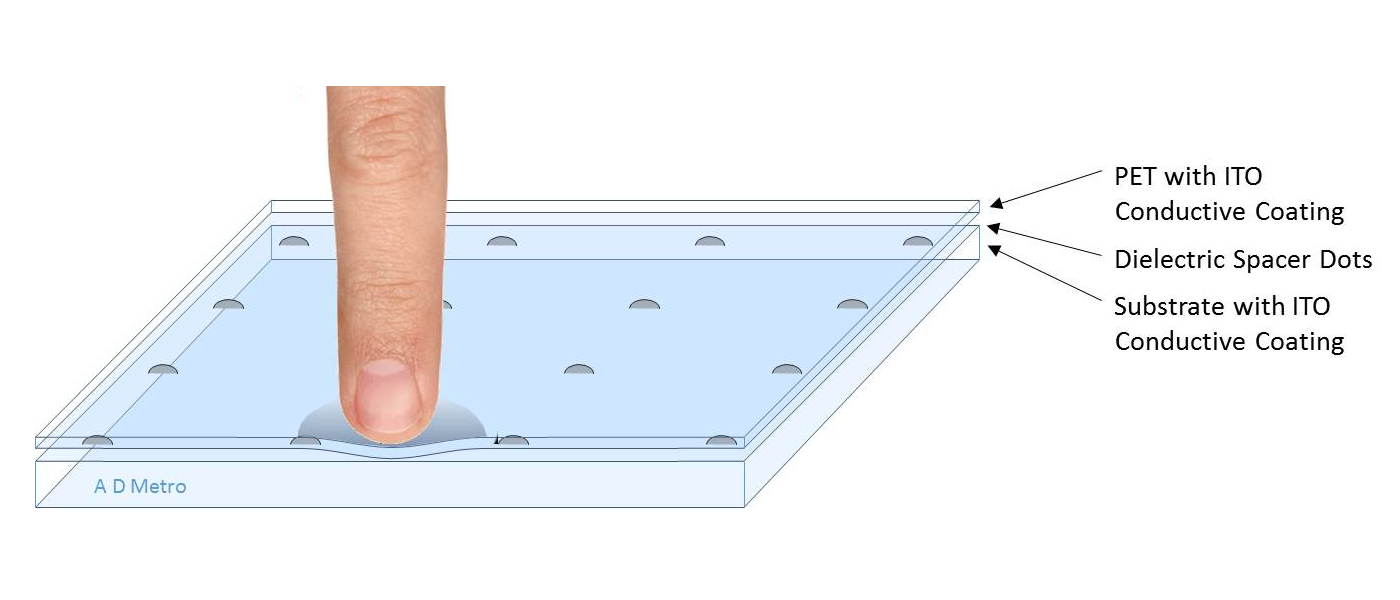 Ask the touch screen experts at A D Metro