ULTRA RESISTIVE
Armored Resistive Touch Screen Sensor
A D Metro's unique ULTRA touch screen is the most economic, durable and reliable resistive touch screen sensor available on the market. What differentiates ULTRA is its patented durable glass surface that is scratch, abrasion and chemical resistant. It combines the characteristics of a durable glass surface with the benefits of a resistive touch screen. ULTRA offers performance characteristics that are ideal for wide range of commercial, industrial and military applications where rugged durability and reliability are required.
ULTRA overcomes the traditional limitations of standard resistive touch screen sensors with its durable borosilicate glass surface, rather than the standard traditional polyethylene surface. The hard glass surface is resistant to scratches and abrasion, impervious to most chemicals and waterproof. Its glass surface is suitable for IP67 and NEMA 6 enclosures. As a pressure activated touch screen it can be reliably operated by finger, any glove or stylus; and even with contaminants on the screen, such as rain, oil, grease, food, dirt and dust. ULTRA's construction allows it to be used over an extended range of operating environments; and it offers unparalleled reliability, that has been tested to over 200 million operations. These characteristics make ULTRA ideal for reliable operation in harsh environments including rugged, outdoor and unattended kiosk applications.
Ultra offers easy integration into many applications. Its immunity to EMI enables easy integration with any type of display and without compromising touch sensitivity. Its compatibility with standard resistive controllers, offering USB-HID support, enables rapid product development and accelerates time to market.
For less demanding applications see A D Metro's  Standard Resistive touch screens.
Applications
CONTROL PANELS
INDUSTRIAL AUTOMATION
KIOSKS
ATMS
INFORMATION KIOSKS
POINT OF SALE TERMINALS
TICKETING MACHINES
CHECK-IN TERMINALS
VOTING TERMINALS
MOBILE COMPUTING DEVICES
MONITORS
RUGGED ALL-IN-ONE PCS
Markets
MILITARY
AEROSPACE
INDUSTRIAL
TRANSPORTATION
RETAIL
MEDICAL
MARINE
FEATURES & BENEFITS
Features & Benefits:
Pressure activated
Finger, stylus or glove operated
Durable, abrasion and scratch resistance screen
Operates with contaminants on screen
(e.g. water, rain, dirt and dust)
Impervious to water, chemicals, solvents, etc.
Flame and spark retardant
Expanded operating temperature range
Extended operational life
EMI Immunity
Resists spalling if substrate glass is broken
Low power consumption
Easy integration into embedded applications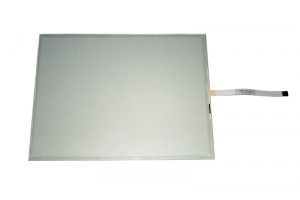 TECHNICAL SPECIFICATIONS
Technical Specification Summary*:
Size:
3.5″ to 24″
Types:
4- or 8-wire; and 5-wire
Input Device:
Finger, Stylus, Gloved finger
Activation Force:
<80g
Surface Hardness:
6.5 Mohs
Temperature:
Operating: -35°C to +80°C*
Storage: -40°C to +85°C*
Enclosure Compatibility:
NEMA 4, 6, 12
IP65, IP67
Transmittance:
≥84%
Sensor Lifespan (Touches):
 5-wire: >200 million
4/8-wire: > 20 million
*Technical specifications apply to standard products and are subject to change without notice. Product performance will be subject to suitable installation and mounting. Consult manufacturer for technical drawings, best practices for installation and mounting, confirmation that product can meet intended application's requirements or for the applicable product specifications when optional enhancements are applied.
AVAILABLE OPTIONS
Enhancements – Available Options:
Some applications have more demanding requirements. To meet these needs A D Metro can make select combinations of the following enhancement options available:
Alternative thicknesses of Borosilicate glass
Anti-Reflective (AR) and Hydrophobic coatings
Anti-Glare (AG) coating
Foam or adhesive mounting gaskets
Chemically strengthened backer
Polycarbonate substrate
Graphic underlay / Printed laminations
Port to diaphragm
More About Ultra Resistive
ULTRA's Glass-Film-Glass (GFG) constriction adds a borosilicate glass membrane that enhances the touch screen sensor's operational life, reduces ITO fracturing and pillowing by creating a stiffer glass/polyester top layer. It also extends the operational temperature range with better matched coefficients of expansion. The glass/polyester top layer does not shatter, or result in spalling, and allows the sensor to continue to operate even after extreme abuse such as deep scoring, repeated impact trauma and other forms of vandalism.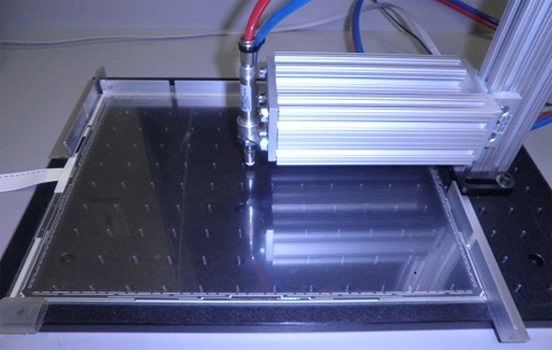 Tested: Over 200 million operations
The 5-wire ULTRA resistive touch screen sensor has been tested beyond 200 million touch operations on a single point with a "Thumper Test" and without any failure of the sensor.
How do ULTRA Resistive Touch Screen Sensors Work?
An ULTRA resistive touch screen sensor works in the same way as a resistive touch screen sensor. A resistive touch screen sensor is an analogue switch technology that is pressure activated. Two conductive coated layers (usually using Indium Tin Oxide [ITO]), facing each other, are separated by a layer of dielectric spacer dots. When pressure is applied to the top surface, the two layers come into contact and the controller locates the touch point. To determine the x and y coordinates, in 4- and 8-wire sensors a voltage gradient is applied to each layer in turn; and in 5-wire sensors the resistance is measured between the top layer and each of the four corners of the base layer.
For more information on popular touch screen technologies, please download our whitepaper.
Ask the touch screen experts at A D Metro